(TE-1146 has authorized to do further research and development in the affiliated company, T-E Meds, Inc.)
T-E Meds website: https://www.temeds.com/


TE-1146 is an ADC, in which the antibody is derived from anti-CD38 daratumumab (Dara) and the two site-specifically conjugated drug bundles each carry 3 lenalidomide (Lena) molecules. TE-1146 is homogeneous, having a DAR of 6, and exhibits superior in vitro and in vivo stability.

In NOD-SCID mice with transplanted human multiple myeloma tumors H929 and MM.1S, TE-1146 could completely eliminate tumor cells, whereas Dara, daily injection of Lena, and their combination had only partial inhibitory effects on the tumor growth.

It is important to note that TE-1146 at ¼ of the dose of Dara was more efficacious than the combination of Dara and Lena. Furthermore, the amount of Lena in TE-1146 was about 1/1000 of that of Lena injected daily over 21 days.

We believe that TE-1146 is potentially a competitive therapeutic for the treatment of multiple myeloma.

The molecular structure of TE-1146.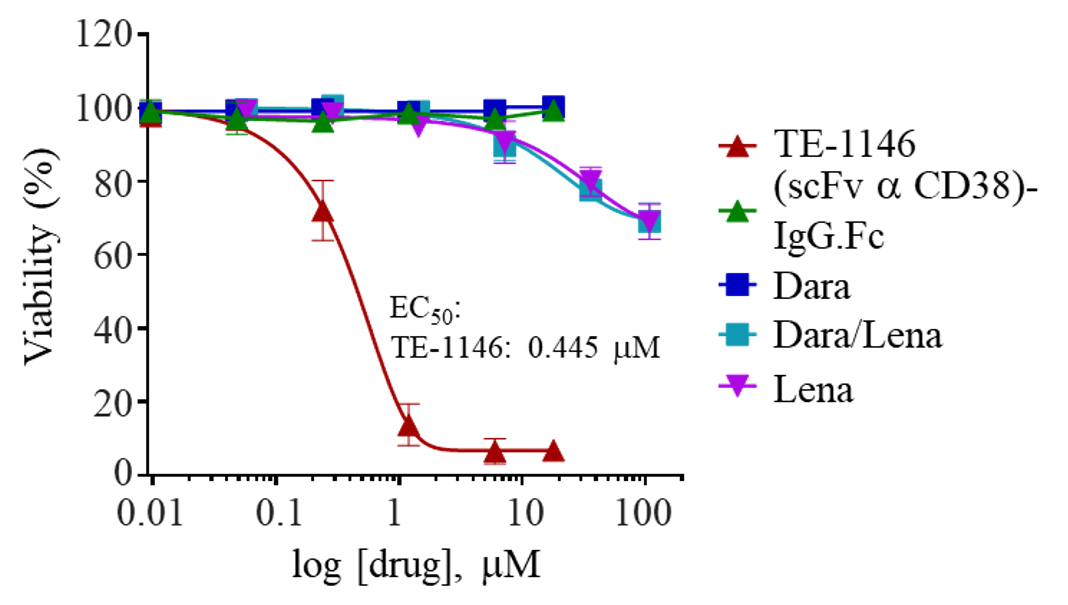 TE-1146 could cause lysis of H929 cells in 5 days in culture much more strongly than Dara, Lena, or their combination.

TE-1146 showed better effects than Dara/Lena combination on reducing the tumor size in a mouse multiple myeloma (H929) xenograft model. Mice were sacrificed on day 42, and tumors excised and weighed ( in mg).